Posted on
By My Pet Food Store

The FDA has been looking into a possible connection between grain-free diets and dogs developing canine dilated cardiomyopathy (DCM). Other possible connections should also be examined, such as the quality of the ingredients being used in these diets (Non-GMO vs GMO), how these diets are made (highly processed vs minimally processed) and other factors such as...
A little bit about Pet Food History…
Prior to the 1860's most dogs and cats were fed raw diets and table scraps. By the 1940's, even though the first dog biscuit was developed in the 1860's, nearly 90% of dog owners were feeding canned (wet) dog foods. During WWII an increase in metal was needed and it became necessary for pet food manufacturers to develop an inexpensive dry pet food. In the mid 1950's, Purina produced the first dry pet food (kibble) through a process called extrusion.
A little bit about Extrusion…
Extrusion is a cost-effective way to create shelf-stable dry pet food. Using meat, vegetables, and other ingredients, pet food manufacturers make what are known as batches. These batches are placed under extreme temperatures and forced through an extruder. The extruded product is then cut, producing what we recognize today as dry pet food. (Some pet food manufacturers slow bake or air dry these bathes. This article is not addressing baked or air-dried pet food).
A little bit about Controlling Costs…
For any pet food manufacturer, it costs more to make high meat content dry pet food, when compared to making dry pet food containing less meat and more grains or other binders and fillers. And for many consumers, it is simply not in their budget to pay for these higher costs. To meet the needs of the consumer, manufacturers must find ways to reduce/control costs. Thus, less expensive ingredients are typically used with corn and wheat being seen most often in what we term "grocery store brands". These are the brands which take up large amounts of shelf space in big box retailers, grocery store chains, home improvement and warehouse stores, etc. Other non-meat ingredients used by pet food manufacturers are brown rice, oatmeal, peas, lentils, potatoes, sweet potatoes, etc.
A little bit about What Has Happened…
In July 2018, the FDA announced that they were investigating a possible link between grain-free diets and dogs developing DCM (Canine Dilated Cardiomyopathy). Chart below: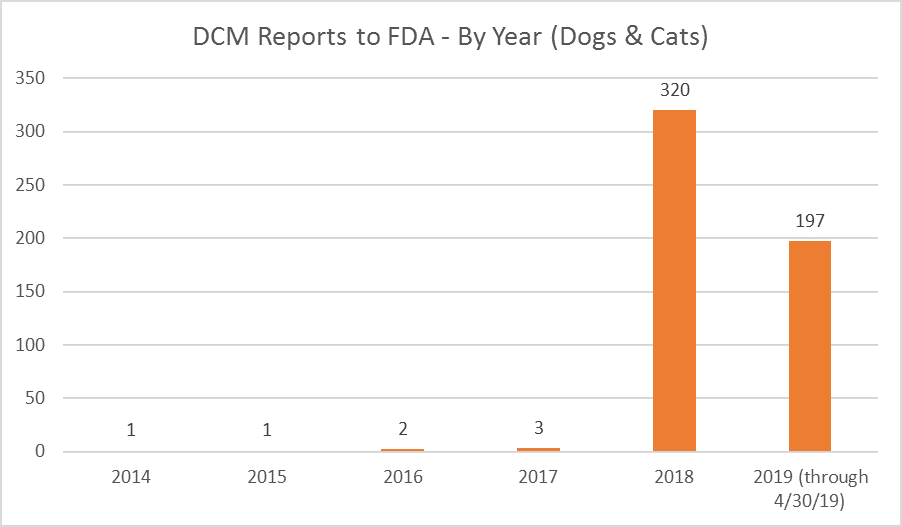 A little bit about DCM…
Canine Dilated Cardiomyopathy is a heart disease of the cardiac muscle which decreases the heart's ability to pump blood through the body resulting in the enlargement of the heart. The cause of DCM is unknown but certain factors such as diet and genetic predisposition have been speculated. Breeds that are predisposed to this condition are:
Afghan Hound
American Cocker Spaniel
Boxer
Dalmatian
Doberman Pinscher
English Bulldog
English Cocker Spaniel
Great Dane
Irish Wolfhound
Newfoundland
Saint Bernard
Scottish Deerhound
Chart below:
On June 27, 2019 the FDA gave an update to their investigation listing 16 dog food brands named most frequently in DCM cases reported to the FDA. Chart below:
Though many of the grain-free diets reported had ingredients such as peas and/or lentils, and potatoes, dry dog food was most frequently reported (likely because most pet owners feed dry) with raw, home-cooked, semi-moist, etc. (wet) being reported less frequently. Chart below:
A little bit about Why We've Taken a Closer Look at Dry Pet Food (Kibble)…
As stated at the beginning of this article, dogs and cats were fed raw diets, table scraps, and eventually canned (wet) foods. It was only after WWII and through significant marketing efforts by pet food manufacturers that consumers switched to and preferred feeding dry pet food over wet.
The events of these past months have reinforced our thoughts that the health of dogs and cats can be improved when they are fed a wet rotational diet (switching and rotating their food) that has been minimally processed. Increasing the amount of moisture in their diet can be accomplished by feeding raw frozen, freeze-dried, dehydrated, and canned pet foods. Home-prepared diets would also be included in this list (making sure home prepared meals are complete and balanced).
After this update, even though it is still unknown as to the potential link between grain-free diets and DCM, on June 30, 2019 we decided to reduce the amount of dry dog food our business carries and discontinue the sale of all grain-free dry dog food. We then expanded our selection of freeze-dried, dehydrated, raw frozen and wet foods (diets containing more moisture and less processing). In order to provide you with more choices and the most convenient and affordable options, we have continued to carry premium grain-inclusive dry dog food brands.
A little bit about What Now…
The FDA has not recommend changing your pet's diet but is telling pet parents to consult their veterinarian. They also have not been able to state with exact certainty what might be causing the increase in DCM cases. Pet parents (and their doggies), farmers, ranchers, manufacturers, distributors, store owners, etc., are patiently waiting for the FDA to finalize their investigation and give their recommended guidelines. In the meantime, it is important to research multiple credible sources in addition to listening to your veterinarian's recommendations. And try to feed your pet the best possible foods that your budget can afford, and your schedule will permit.
There are a lot of changes going on now in the industry. The FDA investigation has unfortunately caused some consumers to switch to lower quality, heavily marketed, popular brands which are mostly sold in big box stores even though independent pet specialty stores still have many high-quality grain-inclusive options for pet owners. In fact, several exclusively grain-free pet food manufacturers have begun to introduce grain-inclusive dry dog food formulas. As the industry evolves, we thank you for your patience and understanding and we want to assure you, that we are committed to carrying the best foods, treats, chews and supplements for your pets.
Thank you for not giving up on pet specialty. Though never attainable, we are always striving for perfection, "Because we know how much they mean to you."
Visit Our Home Page For Offers & Promotions